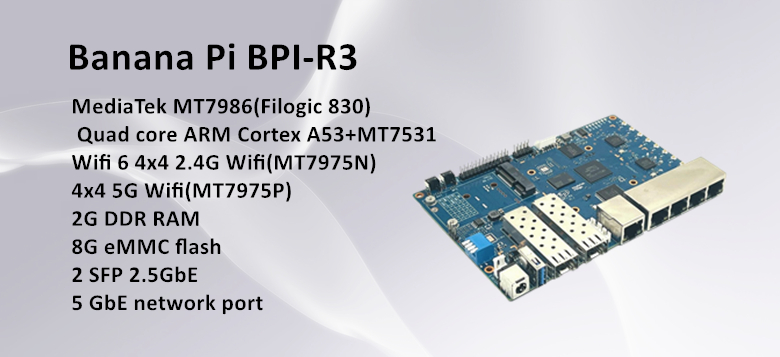 Introduction
Banana Pi R3 Router is a very high performance open-source development board with MediaTek MT7986 (Filogic 830) quad core ARM A53, MT7531A chip for network/ethernet, 2 GB DDR4 RAM and 8 GB eMMC flash onboard.
Furthermore, it supports Wi-Fi 6 2.4Gz Wi-Fi using the MT7975N chip and 5Ghz Wi-Fi using the MT7975P chip. It also contains two SFP 2.5GbE ports and five GbE network ports.
Top view: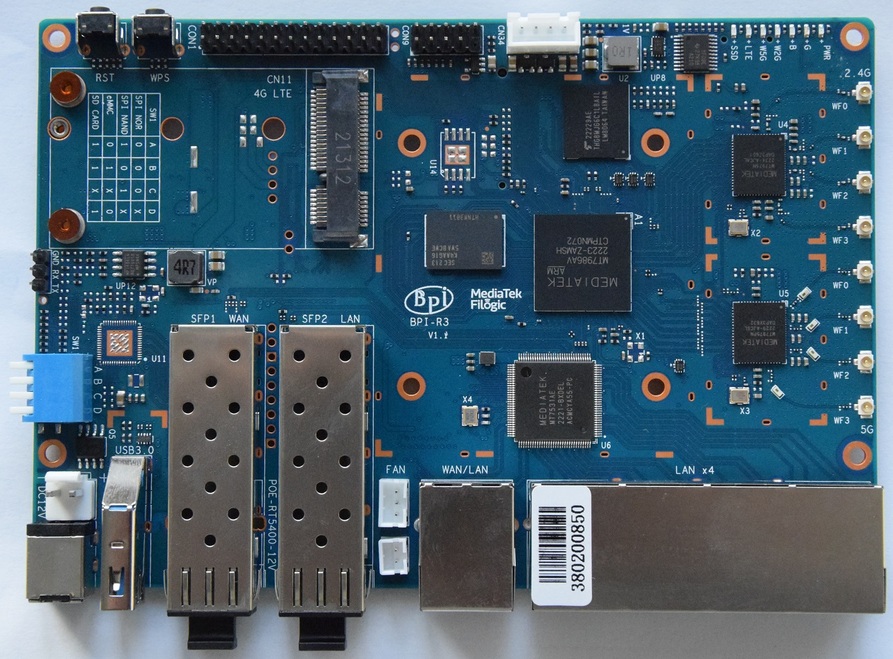 Bottom view: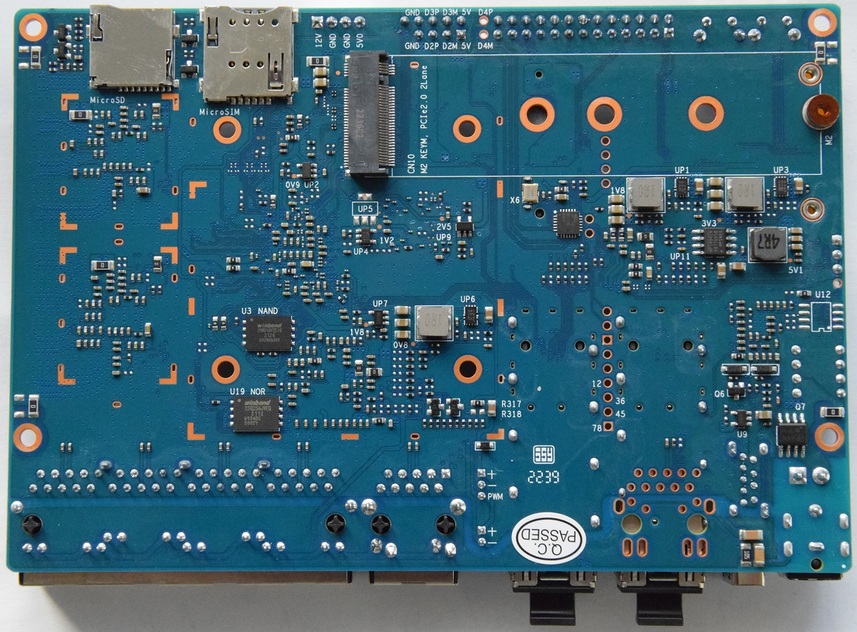 Wiki pages
There exists separate wiki pages, which are kept up-to-date. And contain more details:
English: Banana Pi BPI-R3 - Banana Pi Wiki (banana-pi.org)
Chinese: 香蕉派 BPI-R3 - Banana Pi Wiki (banana-pi.org)
Unofficial wiki (English): https://wiki.fw-web.de/doku.php?id=en:bpi-r3:start
Features
Fast quad core processor: MediaTek MT7986A (Filogic 830), ARM Cortex A53 SoC designed for routers
2GB DDR4 RAM
Wired network:

5 GbE network ports
2 SFP 2.5 Gbe ports

Wi-Fi:

4T4R 2.4Ghz 802.11bgnax Wi-Fi (MT7975N)
4T4R 5Ghz 802.11anac/ax Wi-Fi (MT7975P)
dual-band Wi-Fi 6 support

Either 6GHz or 5GHz possible (see here)
Only WiFi 6 is natively supported. WiFi 6E (extended) requires a separate adapter.

1 SD/ MMC controller:

8 GB eMMC flash storage
Micro SD card slot

1 SPI controller:

128 MB NAND flash storage
32 MB NOR flash storage

USB 3.0 Port
Mini PCIe slot (for 4G LTE module, only USB 2.0 connected, no PCIe/SATA lanes)

Sim card slot (for 4G, connected to mini PCIe interface)

M.2 PCIe interface (for storage or Wi-Fi, PCIe x2)
26 pin GPIO
PoE, Power over Ethernet (optional)
Supports OpenWRT (BPi v21.02, 22.03 snapshot)
Supports Debian & Ubuntu
Debug-Uart

3v3 TTL
Usb2serial adapters: cp2104,FT4232, maybe ch340 (no G)

Profilic, cp2102, ch340G WiFi firmware does not start issue-report

Connection: gnd-gnd, rx-tx, tx-rx
115200 8n1 (8databits,1 startbit), no flow control
GitHub Repos
Images
Webshop
The official AliExpress Store links are listed below.
Order the router (only the board, without accessories): Banana Pi BPI-R3 Router Board - AliExpress
Order the combined package deal incl. metal case and accessories: Banana Pi BPI-R3 Router Board + case + accessories - AliExpress
Other Links