While the existing Debian 9.5 AARCH64 Release 2018 is somewhat working, it is rather old. Not to mention that overlay modules for sound and display adapters arent enabled, nor does the audio jack work.
Unfortunatley the Armbian images don't seem to work on my BPI-M64 board (rev. 1.1), not even if I attempt to compile them by my own.
So I tried to setup an cross development environment in a VirtualBox, with cross compilers for kernel 4.4.x, which is everything but easy, considering that this is quite an old kernel. Somehow I did manage and I can launch the build, choose kernel parameter, build u-boot and kernel without error.
I had a nice read in the R64 part of the forum about How to build an Ubuntu/Debian SD image from scratch which was quite helpfull. But like others, the folder and file structure is sometimes a bit confusing, not to mention that files are redundant scattered over several places.
So far I understood, only the files in folder SD are meant to be copied to the SD card.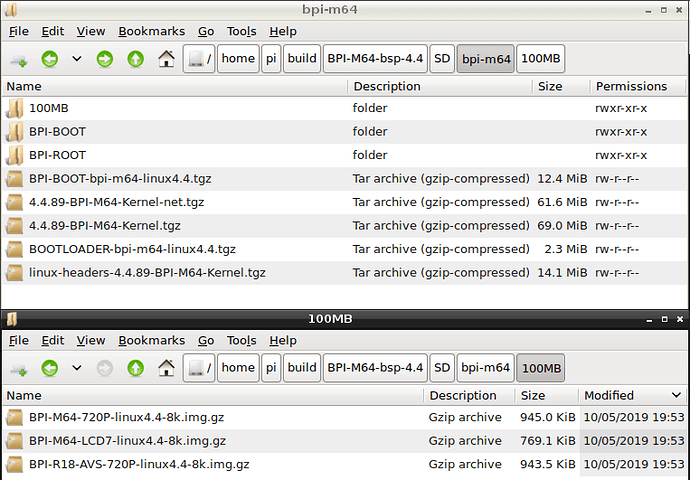 But as one can see, for the M64 we not have a dedicated HEAD or PRELOADER file. If I get it right then files in subfolder 100MB are the different BOOTLOADER files that can be installed via
 $ sudo gunzip -c ./SD/bpi-m64/100MB/BPI-M64-720P-linux4.4-8k.img | sudo dd of=/dev/sdc bs=1024 seek=8

Even though I assume, in the complete image I have downloaded from Banana PI BPI-M64 New Images :Debian 9.5 AARCH64 Release 2018-11-02 all 3 elements are packed together. Nevertheless it seemed to boot when I copy it over the SD card that previously was holding that Debian 9.5 Image.
I wished I however could backup the boot part of that SD card section which I assume would look a bit like
 $ sudo dd if=/dev/sdc bs=1024 skip=8 of=./BOOTLOADER-backup.img

using skip instead of seek to affect the input stream, just that I have no idea how many bytes I actually have to copy…
And why the heck does the bpi-update tool download and copy a bunch of 3.x kernel files on the SD card, but actually fail to copy the kernel headers and activate the just compiled kernel when starting from the build script? Anyhow I guess/hope bpi-bootsel at least switched to the proper kernel?