Banana pi BPI-M3 will send free sample for test
1 if you have website or blogs, can help us review, test BPI-M3, and help us advertise our product.
2 if you have experience with many open source development and want to help us development software and fixed issue.
3, you have a good idea and want to use BPI-M3 in a cool project .
please reply this topic. write what you want to do! BPI team will choose some user ,and send free sample to you , you just only payment the shipping cost .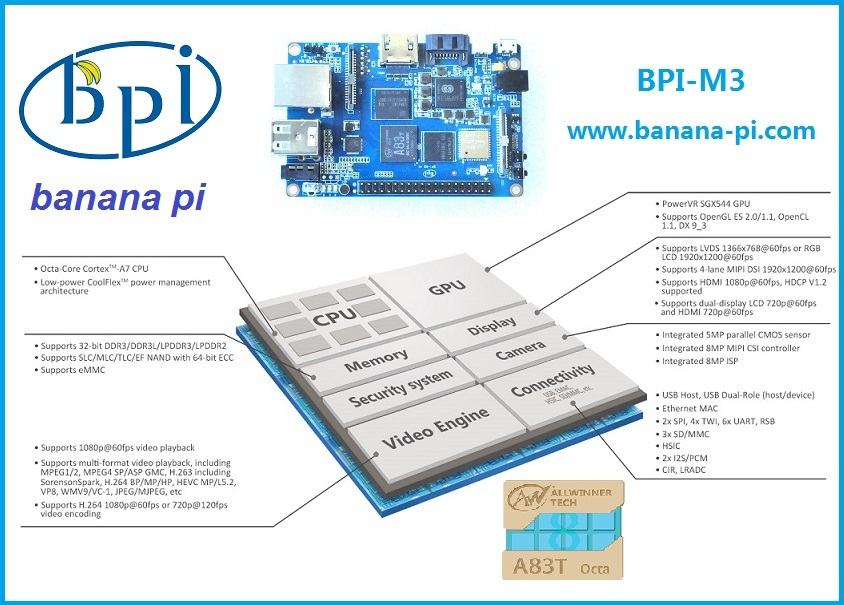 note : 1, not everyone can get free sample , we only can choose some user . 2, we need send it out when we ready the first 1000 pcs in stock . you manybe need waitting .
Update: 1, hardware all EMC test and Eye diagram test have finished .
2, all production test software have development finished .
3, we have do the new 100 pcs for DVT. it have finished . so , all hardware and production arrangements have finish.
4, we have run android and linux on M3 with kernel 3.4, it is from allwinner SDK, but we can let it work as open source.
5, we have run kernel 4.1.x test on it , can running on M3, but with some issue.
6,now , this week ,we can update 3.4 kernel code to github. and build image .
7, we have begin plan to do 1000 pcs or 5000 pcs at first . when image ready ,we can send goods out.
.