Hi, I'm the only one to which the Wi-Fi doesn't work?
IIRC there were some people with WiFi problems and connecting an external antenna had been a suggested solution. The onboard antenna is indeed quite tiny, but when you move very close to the machine you want to connect to, it should work nevertheless.
The "laptop style" antenna connector is right next to the little arrow that marks the GPIO pin no. 1 – but as I don't use WiFi, I can't provide approved info.
For me in Android WiFi also don't work. When I powered M3 from lithium battery connected to pads on the board WiFi works great. But when I connected power supply to charge battery wifi stop working again. For me only on battery wifi works good.I tried different power supplies without effect
Hi, I've just bougth a new M3 and it seems that I have the same issue with the wireless connections. You suggested an external antenna but what type? I found a pair of 3dB antennas with plug in cable for banana R1 router. Does it fit to the M3? http://malnapc.hu/yis/bpi-r1-banana-pi-router-antenna-3db-1par Thanks
It appears to be fine – as I stated above, I don't use the WiFi at all. Nevertheless it would be nice to read about your results!
I bought a "U.FL-RP-SMA" pigtail adapter, to use with an old antennea from an old Edimax EW access point. Works fine under android…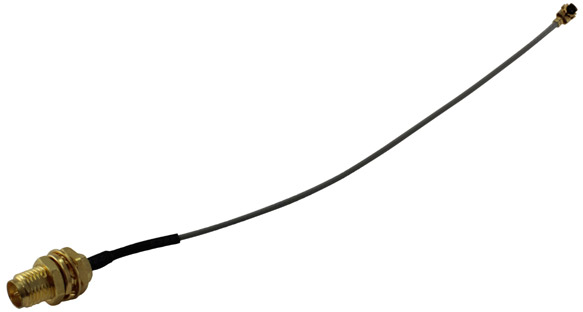 Just find better power supply. In my case - wifi not work on 5V 2A Grand-X, but work on Ugreen 5V 2,4A
Hi man, it does not seems to be the issue. I don't think so… but why not to try.
In my case, I've just tried the Fedora img wich actually does recognize the wifi/bluetooth module without any trouble or power upgrade.
I'm having the same issue. WIFI will not acquire an IP. I've tried Ubuntu, Raspbian, Debian, two different antennas, two power supplies, fixed IP, DHCP, two networks, and still the same problem. I can't find any information regarding the driver or module for the AP6212. My configuration worked for Raspberry and Orange, but I've hit a brick wall with the BPI-M3, any thoughts from the group.