introduction
there are two ways to boot w2, controlled by SW4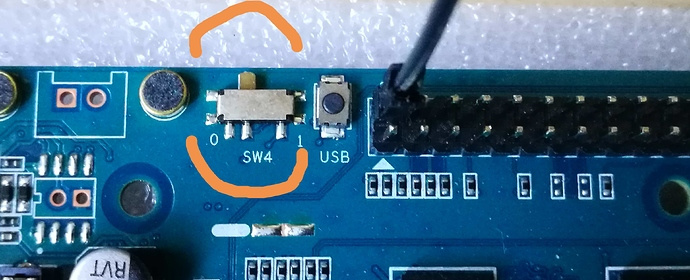 boot from emmc.
boot from SPI + SD card.
After power on, there are 3 steps must be done before loading kernel,(Normally they all are called bootloader):
step 1: CPU init - the code is inside CPU;
step 2: init the flash device on which we boot from; (normally it's called preloader)
step 3: u-boot;
RTD1296 supports booting from eMMC and SPI flash, so if we want to boot W2 from SD card, (that means we put u-boot on the SD card.) the second step code must be written to SPI flash, normally it's done in factory before the board sending out, and the code is fixed and provided by RTK without source. We need not care about it, it does a simple job.
In fact, if the board will boot from eMMC, the second code must be written to eMMC first too, remember that we introduced how to do it with u-boot together on other pages. Normally it's also been done in factory.
The u-boot for eMMC and SD card are different, normally eMMC u-boot 's name is dvrboot.exe.bin, and u-boot for SD card name is u-boot.bin.
Write u-boot to SD card
The u-boot file for booting from SD card is here: https://drive.google.com/drive/folders/17ShSHLOvxeYA6tI9HQXOAb3O7RjqfD_6?usp=sharing
step 1: build a SD card system according: step 2: boot up the board with eMMC and press 'Esc' key to let board stays on u-boot prompt; step 3: using tftp to get u-boot.bin file from network;
       tftp 0x1500000 u-boot.bin

step4: using sd command to write it to SD card:
        sd write 0x1500000 0x50 0x3f0