we test it with deepin2014(base on ubuntu14.04)
1,install depend package :
apt-get install subversion build-essential libncurses5-dev zlib1g-dev gawk git ccache gettext libssl-dev xsltproc unzip subversion file

2,get openwrt source code
git clone https://github.com/BPI-SINOVOIP/BPI-OpenWRT.git

3,enter openwrt dir:
cd BPI-OpenWRT

4,update package and install
./scripts/feeds update -a
./scripts/feeds install -a

5 Enter the customization interface: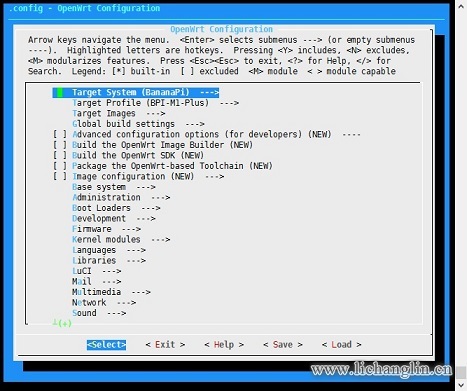 please choose your need:
Target System default is BananaPi,its the only choice on that matte.,Please change the device selection under Target Profile. The OpenWrt image supports M1, M1+ and R1.
example : i need web and add chinese support
LuCI—> 1. Collections  ---> <*> luci  add Luci support ,it mean web GUI support,it is defaultes
LuCI—>2. Modules  ---> <*> luci-i18n-chinese   add chinese also you can choose others.

6,Make ,you can add V=s to see more message ,also add -j4 to use quad core to work .
make

when compile finish bin/sunxi/ dir have a image,file name:openwrt-sunxi-BPI-XX-sdcard-vfat-ext4.img,i compile is BPI-R1,so name is :openwrt-sunxi-BPI-R1-sdcard-vfat-ext4.img,
7, use USB Image Tool burn image to sd,insert BPI-R1 and booting it.
8 running :