Banana PI BPI-M3 is the open source hardware platform,Banana PI BPI-M3 is an octa core version of Banana Pi ,Banana PI M3 is the octa core more better than the Banana Pi M2,it support WIFI onboard.

Banana Pi BPI-M3 series run Android,Debian linux,Ubuntu linux, Raspberry Pi imange and others imange.
Banana PI BPI-M3 hardware: 1Ghz ARM7 octa-core processor, 2GB LPDDR3 SDRAM, add 8G eMMC flash on board
Banana Pi BPI-M3 hardware
Banana PI with Gigabit ethernet port, It can run with Android 5.1.1 smoothly. The size of Banana PI BPI-M3 same as banana pi M1, it can easily run with the game it support 1080P high definition video output, the GPIO compatible with Raspberry Pi B+ and can run the ROM Image
Eight-core CPU Allwinner A83T (Higher Performance than Raspberry pi 2) 40 PIN compatible Rapberry Pi 2 generations RAM: 2G LPDDR3 Storage : Onboard 8G eMMC flash. SDIO interfaces on-board wireless WIFI&Bluetooth BT4.0 Provides CSI,DSI,Audio,2USB ,1OTG interfaces Support TF card Fiexible(External) WIFI&BT antenna Connection or on-board antenna Support SATA port
hardware spec (default : Micro USB power support):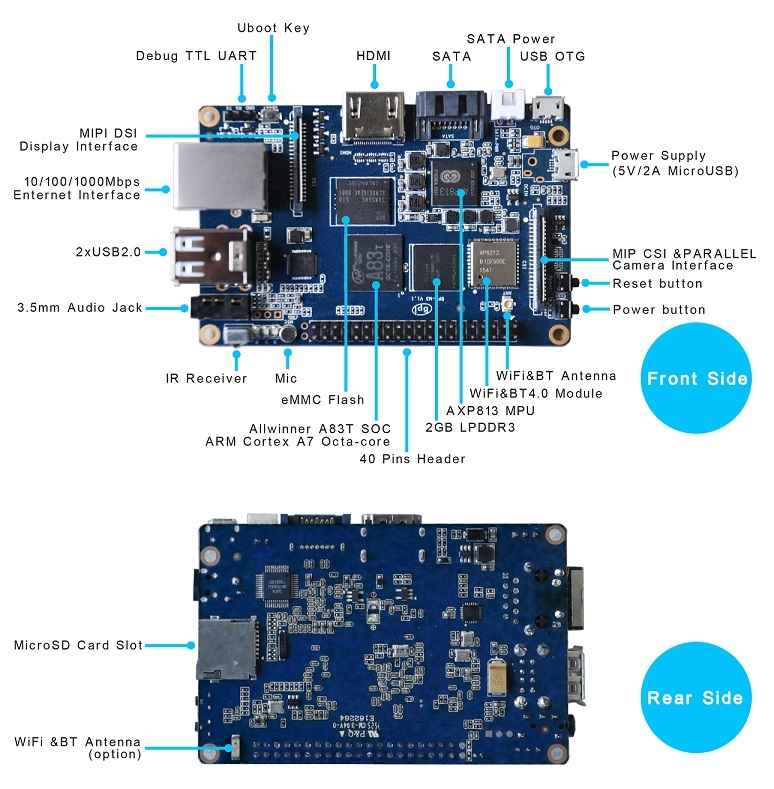 hardware spec (Option : DC power support):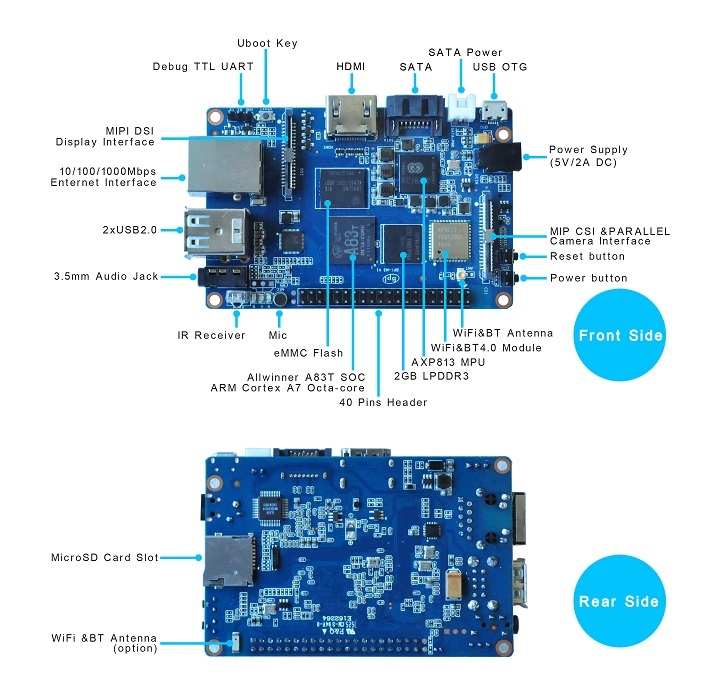 function spec: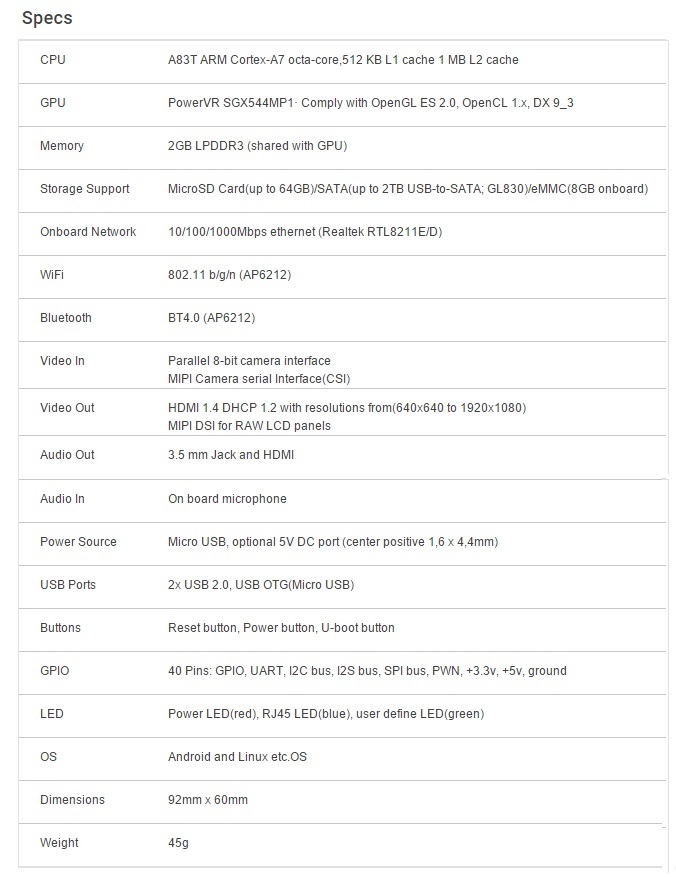 The Banana Pi BPI-M3 is SinoVoip latest single board computer equipped with an Octa Core processor using the A83T TSMC 28nm chip,based on eight ARM Cortex-A7 CPU core operating at high frequency up to 2.0GHZ.Board hardware specs include 2G DDR3 memory operating frequency up to 800Mhz capable of smooth playback at 1901200HD resoltion.Following the A31/A31s design A83T has a PowerVR SG544 GPU runs at frequencies up to around 700MHZ with high image processing performance ensuring the ultimate gaming experience and fluency.
In Multimedia processing,A83T can play [email protected] including [email protected] videos with H.265 codec support,More than sufficient to meet the needs of end-users daily audio-visiual entertainment.
A83T built ISP image signal processor can support 8MP camera interface and also integrates a full-color display Lai Chip technology that enhances image display quality,not only for the end-users,it brings a more vivid visual experience,while optimizing degree in pastel colors and enhance the end-user,even minimizing eyesight damages especially to children.
Integrated full hardware security system is another major feature of the A83T supports DRM solutions which include high-grade Widevine Level1. HDCP 2.* for Miracast support secure boot \secure storage capabilities to ensure the security system and data.In the power saving area 28nm advanced technology uses high energy-effieient.Cortex-A7 architecture,Performance and power consumption is very balanced in the PoweVR 5 GPU series due to software optimization.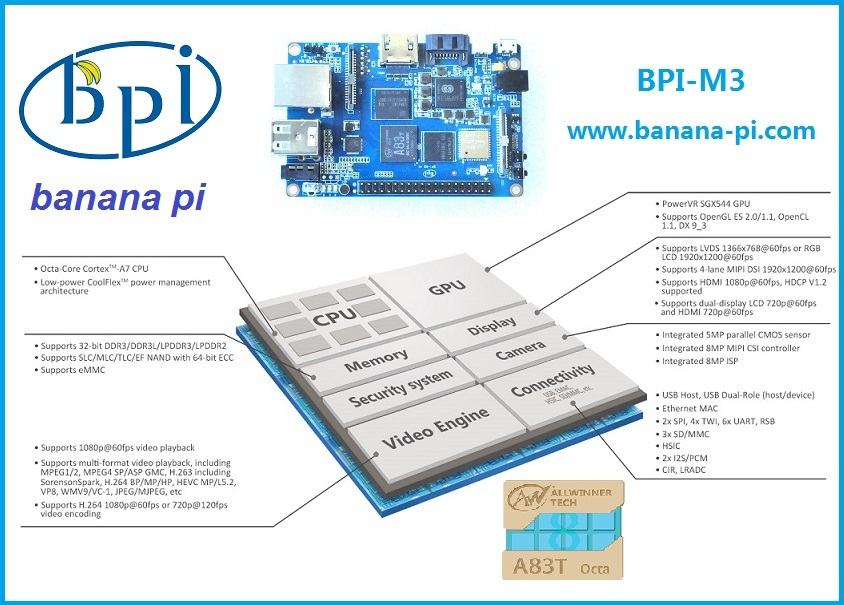 more documents ,please read online wiki page:
http://wiki.banana-pi.org/Banana_Pi_BPI-M3
allwinner A83T chip ,R58 and H8 chip is PIN to PIN compatibility, so BPI-M3 just replace R58,H8 chip onboard, easy to DIY and do a new product
Unboxing Banana Pi M3 !!!