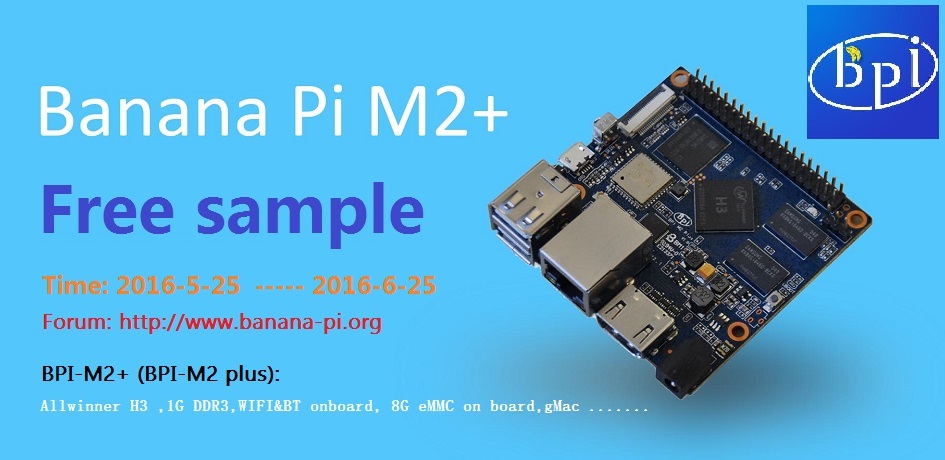 Welcome to the Banana Pi BPI-M2+ (BPI-M2+ Plus) Giveaway
more about BPI-M2+ ,please see online gitbook document:
https://bananapi.gitbooks.io/bpi-m2-/content/
This time we will use a different mechanics for the application process. For the last several giveaways, only a few users have been selected due to BPI's decisions.
Now they are officially opening up 10 pieces of BPI-M2+ to giveaway to you. You will have to pay for shipping.
Official Rules
You have to comment below with with the following
Your word to post a review of BPI-M2+ on this forum and also on one other platform. (YouTube, blog, other forums…)

Your awesome project that you want to try. Include a link to an existing website on the project. (OwnCloud Server, Chat server, game server, streaming server…) You are not qualified if you already received a BPI-M2+ from a promotion.
It is a trade. You will provide review / project update while BPI supply the board.
The promotion will run for 30 days until 2016-6-25
The selected member's account name will be posted on this thread on 2016-6-25. Each member will be contacted by our representative through email for shipping details.
May the forth be with you! (no more puns any more:( the contest date was extended to 30 days)
thank you for you support.
---
Here are the 10 people who are selected for BPI-M3 free sample @fahad @Aditya_Narayan @jemartel @RedStar @D.A @Bruce_Lunde @mazsola2k @Joytag @BPI_Q @a663321765
Congratulations. thank everyone support BPI-M3.