BPI:bit an ESP32 with 32-bit Xtensa LX6 dual-core processor based embedded system. It supports Webduino, Arduino, MicroPython as well as Scratch X programming environments.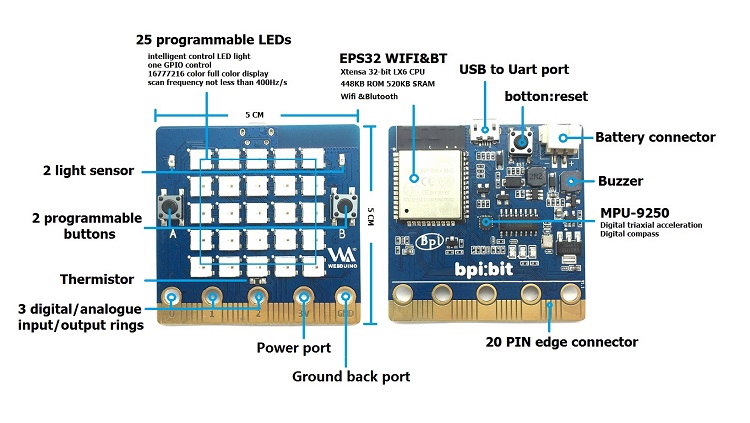 BPI:bit board is 5 cm x 5 cm in size, weighs 10 ~ 12 grams, it houses a 20-Pin edge connector, built-in lighting matrix with 25 programmable full-color LEDs , two photosensitive light sensors, two programmable buttons, an NTC resistor, a buzzer and a nine shaft sensor (triaxial acceleration Three-axis gyroscope and three-axis magnetic compass),
online Wiki page: http://wiki.banana-pi.org/BPI-Bit
Board delivery object:
ESP32 IDE development , can use BPI:bit do open source development
Can help BPI:bit support Python,arduino IDE and others for open soruce.
Review BPI:bit ,and share your video.
STEAM education project ,design new cool kit for STEAM education.
Student or teacher, dedicated to promoting STEAM education.
Application process:
Please explain the relevant work you want to do in the post, preferably your relevant experience and work results in the open source project.(links and video are welcome)
If we think it is appropriate, we will PM you for relevant address information and send it to the development board in time.
After receiving the board and carrying out the work, share your work experience and results in banana Pi forum.
Developers can apply for 1-2 tablets, and teachers can apply for 5-10 tablets.
The BPI:bit hardware version sent is version 1.3.
The freight charge is the responsibility of the applicant. If the community needs to pay the freight charge, a separate application must be made.
Notes:
This activity is a long-term activity.Your application is welcome at any time.
The banana Pi team shall decide the activity.Not all applicants have access to free samples.
If your application is not replied, please PM BBS administrator instead of duplicate application.