YOUR SYSTEM MUST BE raspbian. After you SSH to your board with Xshell or Putty. Enter sudo rasp-config And press Enter. You will see this.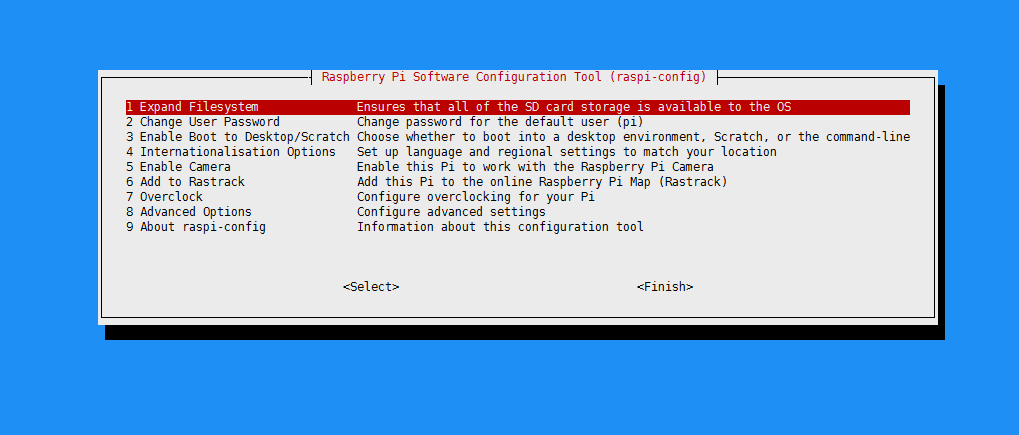 1 Expand Filesystem
extend partition on your SD card to use unallocated memory.
2 Change User Password
in this option you can change the password of user 'pi'
3 Enable Boot to Desktop/Scratch
Console Text console, requiring login(default) Desktop log in as user 'pi' at the graphical desktop Scratch Start the Scratch programming environment upon boot
4 Internationalisation Options
I1 Change Locale I2 Change Timezone set your tinmezone,like we can select Asia then Shanghai. I3 Change Keyboard Layout
5 Enable Camera
6 Add to Rastrack
share your position with this map
7 Overclock
this option does not apply to BPI
8 Advanced Options
A1 Overscan
A2 Hostname
A3 Memory Split A4 SSH this option is default open. A5 SPI Used to drive the SPI screen.We do not have official SPI screen module temporarily,so the official image A6 Audio 0 Auto 1 Force 3.5mm ('headphone') jack 2 Force HDMI A7 Update update raspi-config to lastest.
9 About raspi-config