Source code
The source code of LEDE for supporting BPI R2 is at: https://github.com/moore-bros/bpi-r2-on-lede
Please clone the code to local and checkout the code from branch bpi-r2-on-lede-v1.
Build
Follow the LEDE building instruction to compile the lede system, the target system is MediaTek Ralink ARM, the config file is attached. .config (122.9 KB)
Boot with LEDE image
Step 1: Please program LEDE 2017-09-08 image to emmc by following BPI-R2 New image : Openwrt/LEDE 2017-09-08
Step 2: Boot the board from EMMC, and enter U-boot shell.
Step 3: Load build_dir/target-arm_cortex-a7+neon-vfpv4_musl_eabi/linux-mediatek_32/uImage-mt7623n-bananapi-bpi-r2-initramfs from host pc(tftp 84000000 uImage-mt7623n-bananapi-bpi-r2-initramfs). Before loading image, you may need to set/ipaddr/netmask/serverip in uboot
Step 4: Program the image to EMMC by run command:
   mmc dev 0
   mmc write 84000000 1000 5800

Step 5: Run command boot to boot linux.
Log:
lede_0920.log (38.0 KB)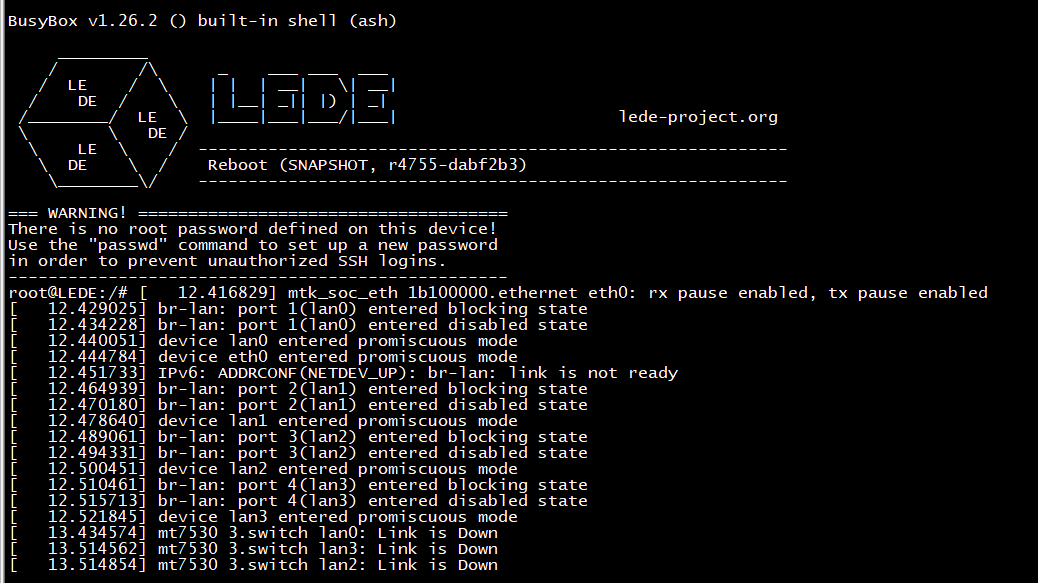 Known limitation
WAN port doesn't work
USB3.0 doesn't work
PCIE is not vaildated
HDMI is not validated.