BPI:bit can be perfectly adapted to Webduino. Of course, before using it, we need to burn the Webduino firmware first.
Firmware download address:https://github.com/yelvlab/BPI-BIT/tree/master/Bin/Webduino
Burning method:
There are two kinds of burning methods to choose from, we can use ESP Flash Download Tool to burn, we can also use the built-in Python script inside the PlatformIO to achieve burn.
One, ESP Flash Download Tool
Tool download address: ESP Flash Download Tool
After downloading, unzip the archive and you will see an ESPFlashDownloadTool_v3.6.2.exe inside the folder. Open this shortcut and open an interface selection mode.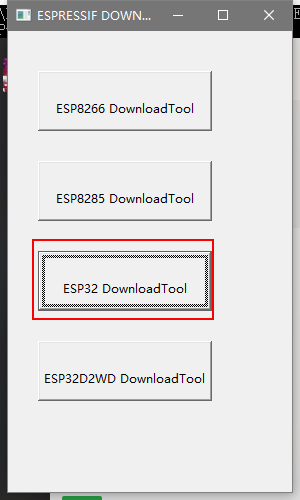 Select ESP DownloadTool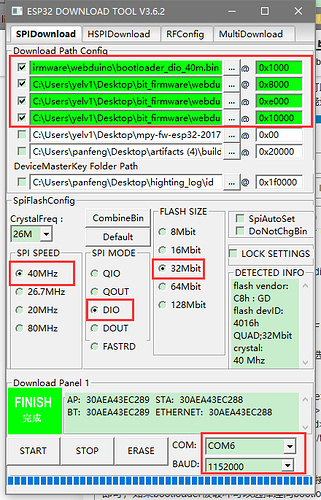 Under Download Path Config, we need to select the four bin files that need to be burned and fill in the corresponding burn locations.
File and burn position corresponding to::
| | |
| --- | --- |
| bootloader_dio_40m.bin | 0x1000 |
| partitions.bin | 0x8000 |
| boot_app0.bin | 0xe000 |
| bit_default.bin | 0x10000 |
| | |
| --- | --- |
| SPI SPEED | 40NHz |
| SPI MODE | DIO |
| FLASH SIZE | 32Mbit |
| COM | COMx(Fill in the port number assigned by the computer) |
| BAUD | 1152000 |
Normally, you do not need to burn two boot boot files. You can directly burn the firmware (bit_default.bin) and partitions (partitions.bin). If the bootloader is damaged, you can choose to burn along with bootloader_dio_40m.bin and boot_app0.bin. But be sure to pay attention to the settings below
SpiFlashConfig Please configure according to the software screenshot, and then select the port in the COM. Porter 115200 does not need to be changed. Select "START" to start recording.
During the burning process: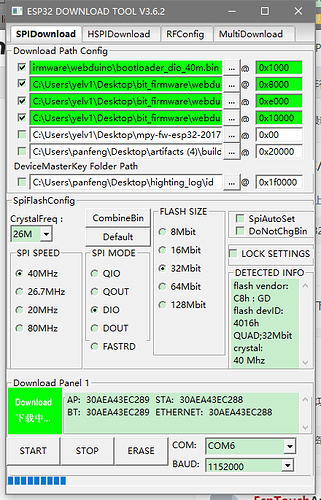 Finished: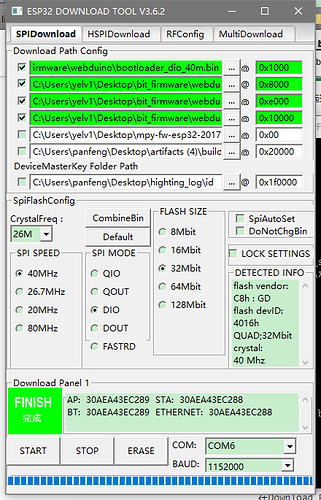 After the burn is completed, you must reset or re-energize, and then you find the LED red light flashing, indicating that the burn is successful.
Burn time is about 20s
then you can use webduino all function on BPI:bit. Please see the webduino teaching documents
Other related introductions can see github:
https://github.com/yelvlab/BPI-BIT/tree/master/programming/ESP_Flash_Download_Tool
Second, PlatformIO comes with a script
This method needs to install PlatformIO in advance. Of course, if you are not using PlatformIO for development, you are advised to use the first method. This method is to disassemble the PlatformIO burning procedure.
First of all, you need to find the installation location of PlatformIO on your computer. For example, my installation location is as follows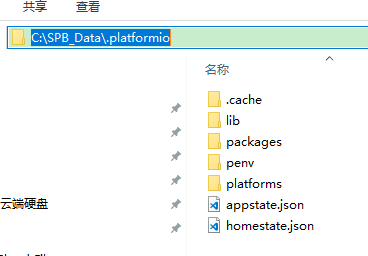 Of course, your installation location is not necessarily the same as mine, you need to find it yourself.
Then, we can find a script file .platformio\packages\tool-esptoolpy\esptool.py according to the following path. This file is the script we need to burn. Then, we open the terminal of PlatformIO, or open the computer. Command line tool, enter the following code
   `Python ~\.platformio\packages\tool-esptoolpy\esptool.py --port COM19 --baud 115200 write_flash -fm dio -fs 4MB 0x010000 ~\BIT\bit_default.bin`

The ~ in the above code needs to be replaced with your actual path, and then fill in the corresponding burning position in order, select the corresponding file path, and then execute this code. This method may be very specific for certain situations. Help, usually used at the time, it is recommended to use the first method of burning.
Normally, you do not need to burn two boot boot files. You can directly burn the firmware (bit_default.bin) and partitions (partitions.bin). If the bootloader is damaged, you can choose to burn along with bootloader_dio_40m.bin and boot_app0.bin. But be sure to pay attention to the settings below