Has anyone had success powering the R3 from batteries?
R3 does not support battery
post your build? how are you hooking things up?
I have run my R3 from a battery USB phone charger. The particular USB battery I use has three ports, each will produce 5v @ 2.5. I then use two of those ports with 2 x 5v -> 12v USB step-up adapters. They will each produce 12v @ 1A. I then wired them into parallel to power a single plug which I can run to the R3.
no on full load transferring many files large or small…
So far this is my build and what Ive used.
[xbox one case repurposed for banana pi r3 glove box in a prius installation. next will be a N5105/N6005 nas board all together in this little glove box.]
more pics here https://imgur.com/a/ihXNFcX
Whenever I try to connect the M2000 via USB(which happens to be a device that can charge other devices through its usb c port) and the Note 20 Ultra 5G into USB the R3 reboots and will not come up without boot loop unless both USB devices are removed.
Out of four different 12v stup up devices this is the only one to boot up the BP-R3. DROK USB Cable DC 5V Boost to 9V 12V Voltage Converter 1A Step-up Volt Transformer Power Regulator Line with LED Display
There is also a HIGHROCK 30cm USB 2.0 a Power Enhancer Y 1 Female to 2 Male Data Charge Cable in use with this setup as well.
Anker 337 Power Bank (PowerCore 26K) Portable Charger, 26800mAh External Battery with Dual Input Port and Double-Speed Recharging, 3 USB Ports
have two, both when on full load transferring files via wifi between multiple machines the device will reboot.
ELECJET PowerPie 20000mAh USB C PD 45W Laptop Power Bank, [Super Fast Charging 2.0] PPS Battery Pack -using 12V USB adapter appears to run the BP-R3 longer without rebooting, cant say I remember transferring many files with this connected.
Ryobi 6ah 18v battery -using 4 channel USB QC3.0 QC2.0 USB DC-DC Buck Converter Charging Step Down Module 6-32V 9V 12V 24V to Fast Quick Charger Circuit Board Hands down winner!
Three 3.7V,10000mAH,1260100 Polymer lithium ion / Li-ion battery -using Teyleten Robot IP2368 Bidirectional 100w Fast Charging Module Buck-Boost Type-c Interface 4S Lithium Battery High-Power Fast Charging Board
misc pats for this build I also have:
-MCP73871 USB 5V DC Power Boost Solar Lipoly Lithium Lon Polymer Charger Board 3.7V/4.2V Battery Management Charger Module
-1.5A Multi-function Mini Boost Module Step Up Board 5V 8V 9V 12V LED Indicator Diy Voltage Module 3.7V lithium battery boost
-LM2596S-ADJ 3-40V DC-DC adjustable step-down Voltage regulator power supply MODULE BOARD 3A Buck Converter LM2596s LM2596
chenyang CY 50cm 9Pin 10Pin Motherboard Female Header to Dual USB 2.0 Adapter Cable](https://amzn.to/3JbI7dY) is what I use for USB to pin on board.
The goal is to have 40000maH with a USB-c charger that has pass through so when its in my car its all ways topped off and if I ever need to take it out and throw it in my backpack I know it'll run for 6-12 hours easily.
My setup works quite well at all loads. The draw of my R3 has never exceeded the ~30 watts my setup will supply.
Well, after going through two of those USB power boost line DC 5V to 9V 12V Step UP Modules I'm done with them.
Now the LM2596S-ADJ 3-40V DC-DC adjustable step-down Voltage regulator power supply MODULE BOARD is powered from a Ryobi battery just fine and when transferring large files via wifi the R3 no longer reboots.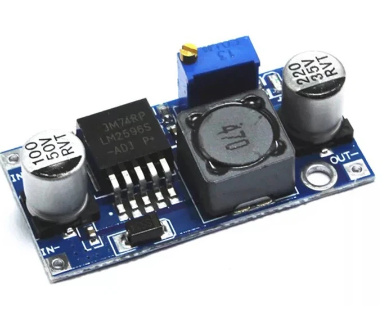 It's set to 12.2V which is what I measured coming off the included power adapter for the R3.