BPI-Pico-S3 has the same dimension as the Raspberry Pi Pico board, equipped with an ESP32S3 chip, an 8MB flash, 4-layer PCB, electroplated half-hole process, ceramic antenna, supports 2.4 GHz Wi-Fi and Bluetooth® LE dual-mode wireless communication, it's a development board perfect for IoT development and Maker DIY Projects.
TinyUF2 + CircuitPython is built-in at the factory.
It is recommended to use Mu Editor to get started with CircuitPython development.
YouTube
Hardware interface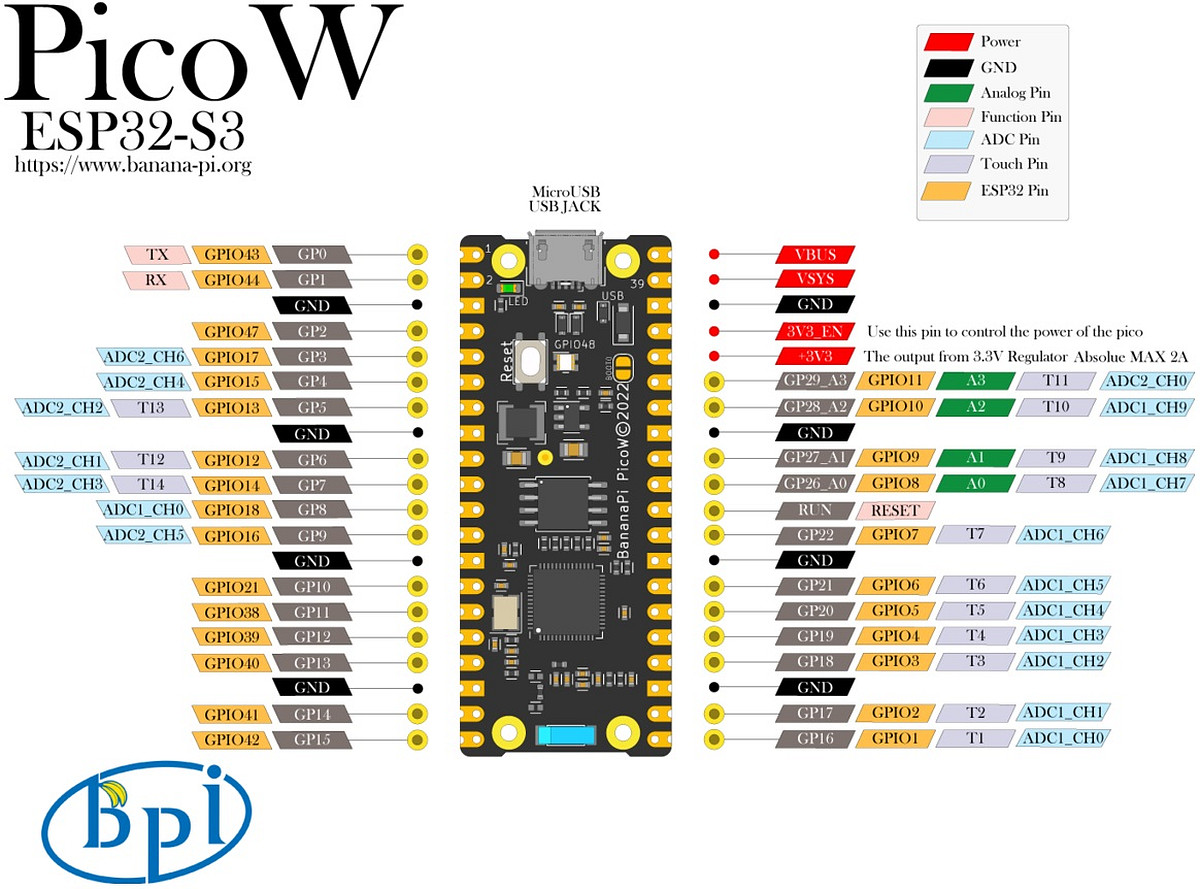 PWM output, control LED brightness
The brightness of the LED light can be controlled by controlling the PWM duty cycle. The control duty cycle is from 0% to 100%, using 16-bit precision, 0 to 65535 in decimal and 0 to FFFF in hexadecimal. Enter the following code in the REPL:
import board
import pwmio
ledpin = pwmio.PWMOut(board.LED, frequency=25000, duty_cycle=0)
ledpin.duty_cycle = 32768  # mid-point 0-65535 = 50 % duty-cycle

Just enter the last line of code again in the REPL to change the PWM duty cycle to bring the LED to maximum brightness:
ledpin.duty_cycle = 65535

Use while and for loops to make breathing lights:
import board
import pwmio
import time

ledpin = pwmio.PWMOut(board.LED, frequency=25000, duty_cycle=0)

while True:
    for i in range(0, 65535, 1):
        ledpin.duty_cycle = i
    for i in range(65535, 0, -1):
        ledpin.duty_cycle = i

BPI-PicoW-S3 + CircuitPython Tutorial Aggregation Link
BUY BPI-PicoW-S3: