BPI-M64 (R18) supporting the new Google Cloud IoT Core to simplify the adoption of IoT solutions in the enterprise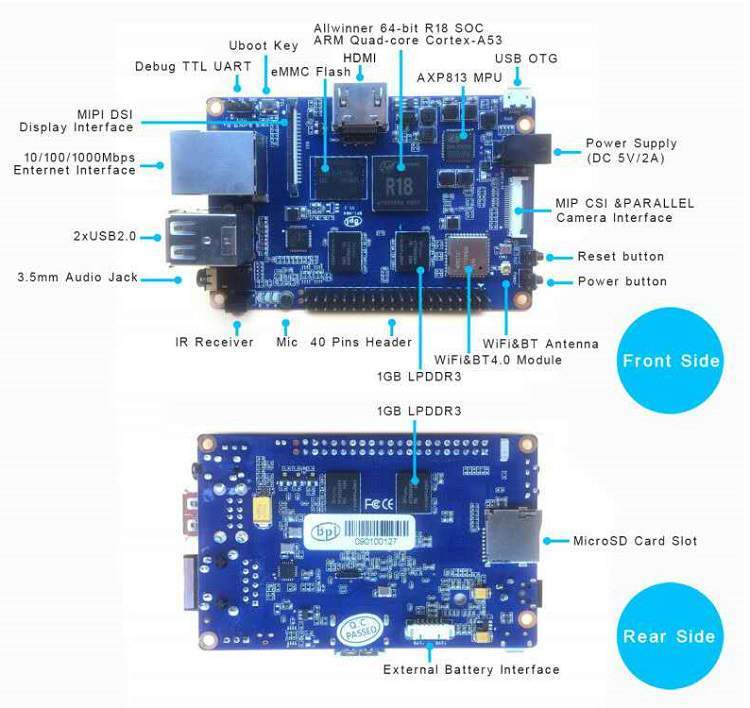 Zhuhai, 18th of May, 2017 — Allwinner Technology today announced support for Google Cloud IoT Core, a fully managed service that allows you to easily and securely connect, and manage devices at global scale. Cloud IoT Core, together with other Google Cloud services, such as, Pub/Sub, Dataflow, Bigtable, BigQuery, Data Studio, provide a complete solution for collecting, processing, analyzing, and visualizing IoT data in real time to support improved operational efficiency. "We are pleased to confirm that the SDK for our R18 processor will now include the relevant libraries to run Google Cloud IoT Core solution. We are confident this inclusion will bring more flexibility and allow products to be managed and scaled more efficiently in the future." Said Lead Engineer Shaun Wang at Allwinner Technology
Key features of the new Cloud IoT Core solution:
● End-to-end security - Enable end-to-end security using certificate-based authentication and TLS; devices runningLinux or Android Things or ones supporting the Cloud IoT Core security requirements can deliver full stack security.
● Out-of-box data Insights - Use downstream analytic systems by integrating with Google Big Data Analytics and ML services.
● Serverless infrastructure: Scale instantly without limits using horizontal scaling on Google's serverless platform.
● Role-level data control - Apply IAM roles to devices to control access to devices and data.
● Automatic device deployment - Use REST APIs to automatically manage the registration, deployment and operation of devices at scale.
"The combination of Google's Cloud IoT Core with Allwinner's hardware lowers the entry barrier for smart connected devices. With value innovation being one of Allwinners key strengths, supporting Google's Cloud IoT Core helps Allwinner deliver secure, analytical and remote management capabilities to our partners in real time without the requirement for additional resources."Said VP Jack Lee at Allwinner Technology.
"Cloud IoT Core was designed to simplify digital transformation by helping customers to leverage Google Cloud's data analytics and machine learning capabilities and act on insights, in real time, from operational data that was previously inaccessible," said Adam Massey, Director, Strategic Technology Partners at Google Cloud. "By working with industry leaders like Allwinner Technology, we are expanding the surface of innovation to help more customers realize the value of connected devices for their businesses." Foxconn (BPI M64-R18) and PINE64 already have products available based on R18 for developers to try. For more information about Allwinner's R18 SoC please visit:
http://www.banana-pi.org/m64-r18.html
or visit the forum at: