How about more documentation ?
Developers of various open source communities.Can add banana pi-related product support in your own community.
I participate to Nextcloud community (one of many). I was mentoring on Google regarding Nextcloud Pi. Nextcloud Pi is a ready solution to setup easy Nextcloud. It started on Raspberry Pi but the community tries to include more ARM devices. Banana Pi would be one of them I guess.
My Relevant works.
My blog is https://eiosifidis.blogspot.com. I write a lot about Nextcloud (Greek and English). Here are some articles from my blog https://eiosifidis.blogspot.com/search/label/nextcloud.
I have some Banana Pi boards that I wrote couple of articles.
I have other projects running such as GNU Health, that I might give them a try when I can.
State the type of Banana Pi boards 4 you want to apply for and the work you want to do on it.In principle, a developer can only apply for one development board.
I would like to try BPI-W2. Not sure what else can I do with it, expanding Nextcloud, but it intrigues me that it has 2 SATA and 2 eth. First of all I intend to check the basics and then see some new features.
Currently I have Raspberry Pi 3, Banana Pi M1 and ODROID (don't remember the model). Those 2 ARM boards are working fine with Nextcloud.
I mostly support Nextcloud and Nextcloud Pi Greek community but sometimes when I know the solution to the problem, I support global community.
If you think that I can support and help Banana Pi community, please let me know.
Thank you
we will send free sample :
iosifidis:banana Pi BPI-M4 have send out
spikerguy: Banana Pi BPI-M64, also have send BPI-R2 have send out
Hi , being Undergrad College student I have been working on RF Jammer for my college and This Jammer will block Specif mobile connection,. I this project we have challanges to Don't block faculty's phone signals in college permisses. That's why our Project Team has been designing Codes for sensors which will detect specific Bar codes ( we will provide them in the form of stickers) from Back side of faculty's phone and their signals would not be lost.On the other hand Student's phone does not have that Bar code so their signals would be blocked easily by Jammer. If you provide us Banana Pi , then it will be our pleasures to work on it too, since our college days for betterment of our future.
Hello,
I am a Network engineer working in the United Kingdom. I would like to apply for a 5G + 4G LTE+Wifi AC+Gigabit Multiplex aggregate router as I am working on a 4G-5G network project. I am developing a pfSense image and collaborating with Vodafone as SIM card and network provider.
This board will be used for testing/image building. 4x LTE PCIE modules will be implemented and the WAN interface will only be used as support.
5G + 4G LTE+Wifi AC+Gigabit Multiplex aggregate router is OEM&ODM project , not banana pi boards, so it can not to apply for
I would like to request a Bpi Nb-IoT for testing as I am doing a comparison between SIMCOM and QUECTEL. The board will be used on band 8 Nb-IoT network.
BPI NB-BC95 NB-IoT
Hi,
I'm Ycarus ( https://github.com/Ysurac/ ) and I would like to apply for a BPI-R64.
I develop OpenMPTCProuter ( https://www.openmptcprouter.com/ ), opensource project to aggregate multiple Internet connections, I already support BPI-R2 and I would like to add support and create images for BPI-R64. The board will be used for tests and full support.
Thanks
OK ,i wll send sample to you when we back office. and we also design OpenMPTCPRouter protocol with 4G base on BPI-R64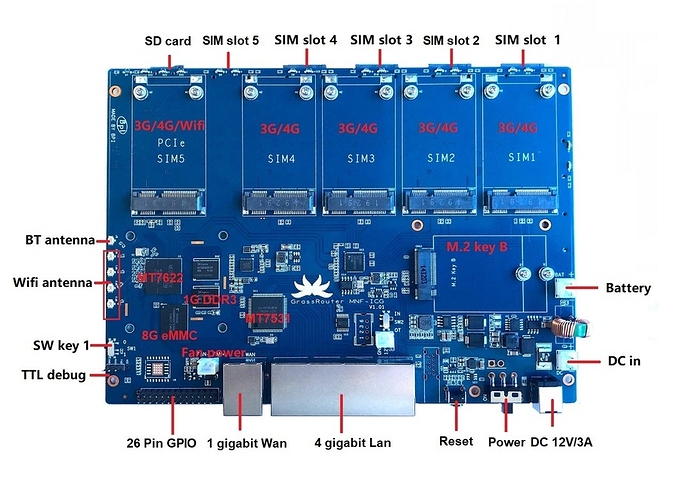 free sample have send out
Hii.I, am Shivam Yadav. I would like to use Banana pi for making a gaming device. I would probably need the Banana pi M64 which has 2 GB of RAM.Please update me if any board has 2 GB of RAM and Sim card slot.It will have as many features as a smartphone has. I will root an android version on it. I will upload a video and how I made it on Instructables. Please check out my account. https://www.instructables.com/member/priyankayadav215836/
have send free sample to you , thank you for your support banana pi project
Hello @sinovoip ,
I would like to raise question about shipping costs to Russia from aliexpress. They are too high, e.g. the item (case for BPI-64) https://aliexpress.ru/item/4000359928714.html costs $8.00 and shipping costs to Moscow - $33.64 via EMS , same bad for BPI-64 itself. At the same time costs to Europe countries, Brazil, USA etc are only US $5.02 via Singapore Post …
Can you help?
I already talked with the manager Judy Huang from SinoVoip Co.,Limited Banana PI at Aliexpress and she promised that ePacket will be accessible for Russia, but there is no result.
I understand this topic is not a good place to ask, please bear with me.
P.S. I am developing something useful with BPI-R64 with hope that will be useful for russian users. For now, I almost ported Armbian to BPI-R64.
So, if you won't help with shipping costs, I would like to get one more BPI-R64 to speed up my activities.
Ok ,i have talked with judy ,she will help you to check this cost .please discuss with judy.
Hello @sinovoip ,
I'm interested in the Banana PI R64 , I've heard OpenWrt mainline support is not the best on latest kernels. I would like to try and port missing features from the old kernels (4.9-4.19) to mainline while also improving current features. I will be focusing on OpenWrt support mostly.
please PM your shipping address to me ,
Please help me out with the shipment. The link is showing the same progress from 5-6 days.
Yes please wait, Looks like there is a delay on all the shipment sent out from CN/HK.
It should be updated soon. It also depends on your country whether they're accepting shipment or not.
Okay. Thankyou for the help.
Hi, I am 36 years old and was working on some Arduino based Synthesizer / Sequencer / Midi Controller and Home - automation (pet feeder etc.) But now I want to go ahead and explore the possibilities of SonicPi to create some new kind of a sensor based semi-electronic half mechanic Music instrument. So I would apply for a BPi m64 because a need 2GB Ram for sure. (If you have any better suggestion for a better suiting board - please let me know. I would use it for SonicPi maintime -and maybe some retro game build) Thanks and stay healthy!
Developers of various open source communities. Can add banana pi-related product support in your own community.
I am contributing my knowledge in the fields of network, cyber and information security communities. I am deeply involved in network security and penetration testings. Beside contributing of open source tools for penetration testing, I am passionate with developing of hardware gadgets of small sigle-board computers for the purpose of penetration testing engagements onsite.
As well I already contributed in some bug fixes in different Linux distros and different open source tools.
I am also contributing in 3D printing community, where I shared various designs of cases for different models of Raspberry Pi (Link to my profile on Thingiverse).
Due to your products looks like really top-notch, and includes many features, which we are missing on other single-board computers, we can bring networking/security/privacy and penetration testing on higher level.
My relevant works.
I created hardware implant (BlackEvil Pi), which enables infiltration into a local network with Raspberry Pi to perform a remote penetration testing. I was also picked to talk about this gadget on Security conference Bsides (link). I also created step-by-step tutorial how to make this gadget with Raspberry Pi W Zero on my blog (link).
State the type of Banana Pi boards you want to apply for and the work you want to do on it.
I would like to apply for BPI-R2 or BPI-R64 model.
I want to create advanced open source router, with increased security and privacy features on one device:
Firewall
IDS/IPS (intrusion detection and preventive system)
VPN server and VPN client
DNS server with enabled DoH (DNS over HTTPS)
Ad blocking
Blocking malicious sites
Parental control
On the long term, I would like to put all features in one admin panel.
All my work will be documented, shared and open sourced. I will also create tutorials on different community platforms.
I want to involve this board also in penetration testing community, where could be suitable for network monitoring and packet capturing, and as well remote controlling it over C2 server.
If you think that I can help and contribute to Banana Pi community, please let me know.
Thank you,
Best regards