BPI-OvO Cart DIY Starter Smart Robot kit , also support webduino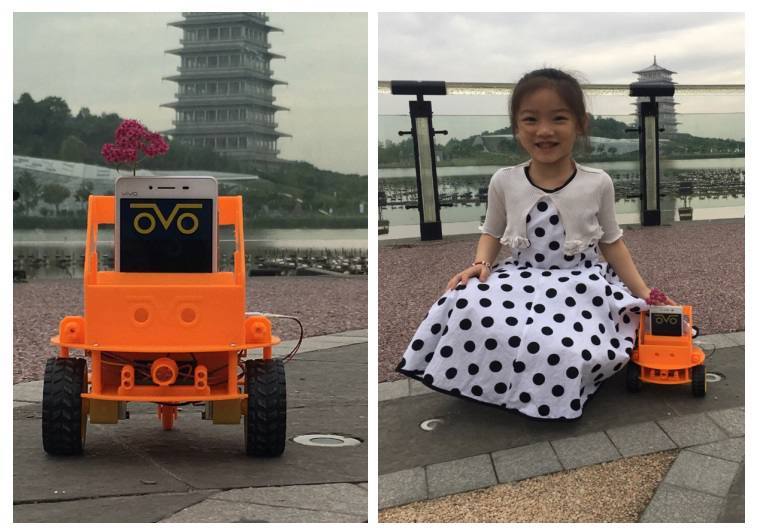 Product description
BPI-OvO Robot is an open source construction platform using Smartphone as the brain of robot, that turns your ideas into reality, no matter what your idea is and however impossible it looks like. BPI-OvO Cart is one DIY Smart robot based on this platform.
What is DIY Starter Smart Robot Kit?
DIY Starter Smart robot kit, as its name shows, is your first step into the waters of the robotics and maker world. It uses smartphones as the brains of robots, With a simple set of beginner-friendly instructions, it takes you step-by-step on learning programming, electronics ,and robotics (even artificial intelligence).
Enhanced Hands-on Ability
With heavy-duty mechanical parts, easy-to-use electronic modules like LED light gun, ultrasonic sensor, Bluetooth module, you can get an enhanced hands-on experience on building a robot cart that is programmable. Even you can extend third part mechanical parts (LEGO block) to make a small Sweeper robot.
Easy and Simple but Powerful BPI-OvO Cart
DIY Starter Smart Robot Kit(OvO Cart) is fully compatible with most smartphone (Android and IOS) . The App is a graphical programming such as Scratch 2.0 Open Source Code and script programing environment such as JavaScript. It makes programming projects and interactive applications easier through simply dragging and dropping function blocks. Even you can make Music choreography using Stage function in App for dancing to the music(or song).
Support Scratch & Webduino Programming
Learning programming is way more fun when your code controls a robot with online Scratch(Third part). You can code in the App in your smartphone or in Blockly by Extending an Webduino board. This kit will teach you all about programming control ports or a micro-controller board to control physical objects using sensors.
Infinite extensions
On the mechanical body of robot, reserving fixed hole for extending parts, compatible with Makeblock platform and most of Lego parts,; On control board, reserving control ports for electronic parts or modules; On app platform, upgrading monthly for rich function by AI libs on internet, such as speech recognition, image recognition (in OpenCV), depth learning(in OpenCV), Google Brain, Even OpenAI. Also you can use the rich sensors of smartphone to enhanced the function of OvO Cart robot.
Product Dimensions: 18x 18 x 8 cm (Packing Box )16x 16 x 18 cm (Assembed)
Item Weight : About 500g (No including Smart phone )
Shipping Weight :TBD
Parts: Contains about 26 assembly parts(TBD)
Power: Four 1.5V AA Battery or 5V Portable battery
SmartPhone : Android 4.0 or above ; Iphone 5 or above (IOS7 or above). (No including Smart Phone in packaging)
Describe your product in 3 words :Funny Smart Robot
How did you come up with the idea for this product?
BPI-OvO Robot's mission is to turn a smartphone into a smart robot for every one in their lives. For OvOCart, our vision was simple: create a funny smart robot for kids learning programing and robotics.
What makes your product special?
BPI-OvO Cart has a big brain via smartphone with infinite expansion by the smartphone upgrade, So it has infinite possibilities.
Video demo on youtube: