BPI-Centi-S3 is a small-sized ESP32-S3 development board with a 1.9-inch LCD onboard, suitable for the development of comprehensive Internet of Things application projects such as color display, interactive control, wireless communication, and sensor data acquisition.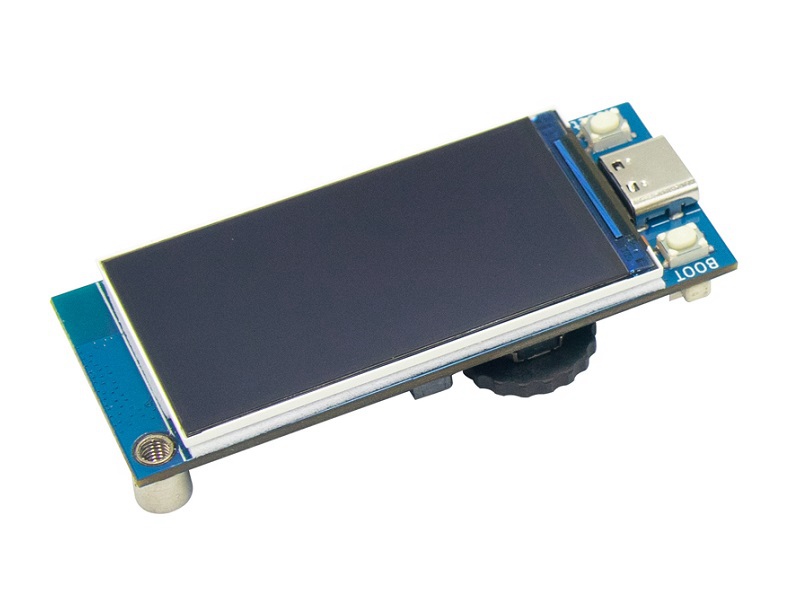 Using the Espressif ESP32-S3 chip, it supports 2.4 GHz Wi-Fi and Bluetooth® Low Energy (Bluetooth® LE) dual-mode wireless communication.
In a compact space, it still provides an incremental rotary encoder, a buzzer, a WS2812 color LED, and all other available pins to meet diverse needs.
Support USB and external 3.7V lithium battery power supply, can realize automatic switching power supply function under dual power supply, and support USB charging mode, equipped with battery voltage detection circuit, convenient for power management.
Key Features:
ESP32-S3, Xtensa® 32 bit LX7
2M PSRAM, 8M FLASH
2.4G WIFI, Bluetooth 5, Bluetooth mesh
GPIO, PWM, I2C, SPI, RMT, I2S, UART, USB, JTAG
1 * ST7789 LCD screen, 1.9-inch, 170*320 resolution, 8bit 8080 parallel port
1 * Rotary Encoder
1 * Buzzer
1 * full color LED
1 * JST SH 1mm 4-Pin I2C connector
2 * JST SH 1mm 6-Pin
1 * USB Type-C
1 * MX 1.25mm 2-Pin battery connector, support charging
Hardware interface: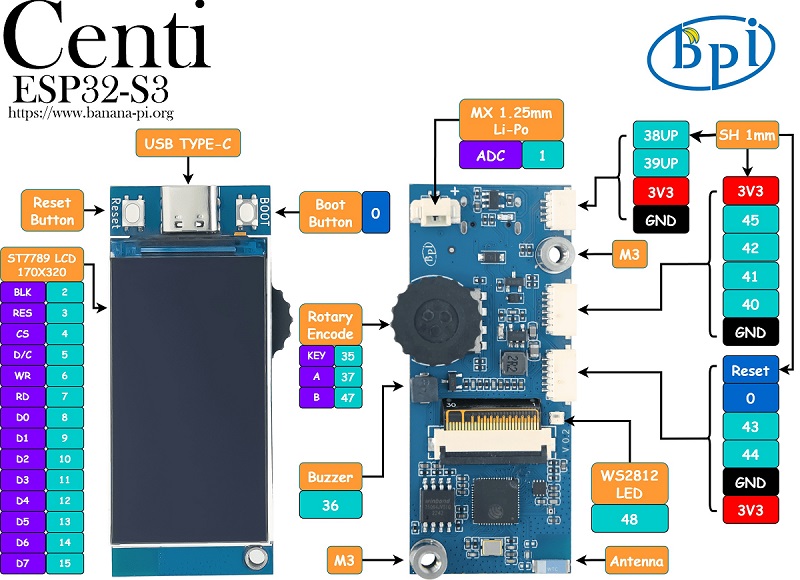 BPI-Centi-S3 1.9-inch LCD display: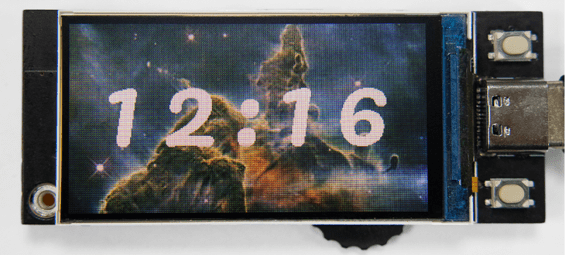 more please see wiki page, will update on wiki:
https://wiki.banana-pi.org/BPI-Centi-S3